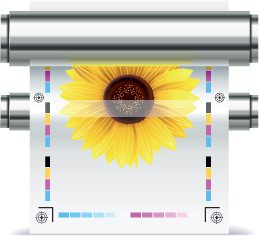 Our Equipment
We have a strong equipment inventory. Since printing is considered a manufacturing business, our equipment choices have a major impact on how well our company can perform.
Our philosophy of providing consistent, on-time delivery and the highest quality printed images is made possible by our job workflow systems, our talented team of coworkers, and our top-notch equipment.
We operate an offset press and three digital presses in addition to a Heidelberg letterpress. The bindery department consists of all that is needed to finish your job whether it shrinkwraps, pads, binds, numbers, perfs, scores, folds or whatever it takes to look perfect for you.